Featured Item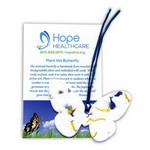 Butterfly Ornament w/ Embedded Forget Me...
Our stock paper shapes are die cut in our 1/16" thick heavy weight handmade paper. They come packaged in a crystal clear poly sleeve with a planting instruction card printed in full color with your sp...
$1.42 - $1.80
Welcome!

Caputo Business Services ...is a full service advertising specialties company offering you a comprehensive selection of promotional products and services. ...works as your advocate to find cost effective ways to market and promote your business through custom products designed to speak your way to your customers and clients. ...works with a large number of companies and continually develops new relationships to expand your promotional possibilities so your options are only limited by your imagination. Mission Statement: It is our goal to provide high quality promotional products in a manner which makes doing business enjoyable for our customer and to such a degree of satisfaction that they have no desire to do business elsewhere.